Your tapware may be relatively small in the scheme of things, but it can have a big impact. Here are some things to consider.
The big picture
There are many choices for your bathroom tapware and before getting started it pays to look at the big picture. If you're serious about getting your bathroom just right, create a design board with vanity and basin styles, tiling, flooring, and wall colors/finishes. With your wider design context considered your choice of taps will be more informed and enduring.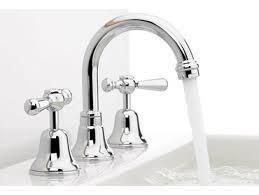 Broad things to consider – traditional or contemporary? Generally, it makes sense to have classic-look taps for a traditional bathroom and more minimalist, sculptural designs for a modern bathing space. Another option is to contrast the wider theme. For example, classic chrome hot and cold taps can offer a contrasting feature within a hip, modern aesthetic.
One pretty good rule of thumb is if you have one style of tapware, it's almost always more effective to stick with that look right through your bathroom.
Another early point is to think about the size, positioning, or number of tapware holes in your basin as these factors may well dictate your choices. Two holes mean two taps, for example. And size also matters. You can't put a huge tap in a modest basin and still expect to be able to use it comfortably. Click here to buy tapware online in Australia.
Finish
There are, of course, myriad options here. Chrome and stainless-steel tapware are always in style, for example, while taps, and/or mixers in contemporary matt black create drama. As opposed to stainless steel or chrome, matt black also resists watermarks and fingerprints.
Chrome tapware is generally brighter and shinier than stainless steel but stainless steel is more durable. Chrome is a plating while stainless steel is a solid alloy.
Brushed metal finishes add texture as well as tone while gunmetal is also on-trend. Gold-look, bronze, and brass are other bling options to consider.
Form
From a classic hot and cold tap for a traditional in-bench basin design to a sleek basin top or wall mixer for tabletop vessels, your tap style will further enhance the look of your bathroom, be it traditional or modern.
For a more traditional look bathroom, rounded tapware is effective due to its softer aesthetic.
Conversely, contemporary/ minimalist bathrooms work well with bolder fixtures and fittings such as chunkier or square shapes, or other clean-lined or sculptural-designed taps.
If you have a more traditional style bathroom, rounded tapware works well, thanks to its softer look. Contemporary and minimalist bathrooms, however, often suit bolder fixtures and fittings such as chunkier square shapes or more architecturally designed taps.
If you have vanity top basins, you will need a wall mixer or a tall mixer, the latter specially designed for this scenario.
All these options also work for your bath taps, with the added option of a floor-mounted tub pourer, particularly for freestanding tubs. You can even do away with taps altogether and have a ceiling-mounted tub pourer for the ultimate design statement.
Function
The function of your tapware is as important as the style. A mixer obviously makes adjusting water temperature easier and the plumbing is simpler behind the scenes as well. In addition, a single lever or knob mixer is easier for children to use.
However, using an existing basin you might be limited to having two taps instead. Mixers and single taps can also be wall-mounted, creating a designer look and also saving valuable basin space.
Flow – green water
Whether it's responding to poor plumbing, a remote, off-grid tank-filled system, or simply a love of our planet, water-efficient tapware is a great option.
NZ's Water Efficiency Labelling Scheme (WELS) presents a 1-6 rating system to help you make informed choices. The more stars given, the more water-efficient your tapware is. A one-star tap translates into about 12-16L per minute, while a six-star tap uses less than 4.5L.
In summary, it is worth noting that the issue of saving water in households facilitates the implementation of modern technologies introduced by manufacturers of sanitary appliances and faucets. The problem is that there is currently no unification of technologies reducing water consumption and assigning to them precise indicators or efficiency rating classes. The technical solutions mentioned in this paper are mainly based on the reduction in the water flow rate directly before the draw-off point. It is worth noting that the authors of this paper only consider single-handle tapware.
As a continuation of the research, it would be useful to make similar analyses based on the application of modern solutions for households and public sanitary fittings in commercial, service, and industrial buildings. A good example may be the application of thermostatic mixer faucets for showers. The replacement of traditional shower heads with modern overhead showers characterized by different modes of economic operation can also bring measurable profits.
Similarly, automatic flow regulators that react to changes in water pressure reduce the water flow rates to approximately 4 l/min. The same procedure should be used when analyzing the equipment of washbasins with special mixers with electronic control that reacts to the appearance of hands. It is worth noting that time, non-contact (electronic) and thermostatic systems can be used in all types of tapware. All the above-mentioned solutions can be implemented without restrictions in newly designed buildings or during the modernization of existing buildings. In addition, consideration should be given to using leak detection devices that have a water shut-off function and also notify the user of any leakage. It is very important because such failures, in addition to generating damage, also cause the irretrievable loss of significant amounts of water.
Moreover, water consumption monitoring devices should be equipped with motion sensors, which in cooperation with electromagnetic valves control the flow rate of water, eliminating leaks and leakages. Attempts to implement such solutions should ideally be made at the design or early construction stage. This will allow for the proper installation of monitoring equipment in the piping system.